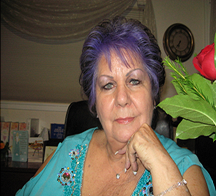 Charlene Whitaker is a well-known professional astrologer and metaphysician. She utilizes this combination in various roles, as counselor, teacher, lecturer, and writer. Author of the well-known and popular books entitled, "Gems of Wisdom" and "Candles, Meditation, & Healing", she has participated in many radio and television talk shows as well as having been featured in various newspaper articles.
Charlene has taught advanced astrology for 10 years at the Carroll Righter Foundation in Hollywood, CA and has been a practitioner of Astrology, Tarot, Palmistry, and Spiritual Development actively for 35 years–utilizing these disciplines as tools to help others on the path to self-knowledge, personal growth, and enlightenment. She is the founder of the Cosmic Academy of Metaphysical Arts in Canoga Park, CA, and she devotes herself full-time to counseling and teaching. Her teaching techniques have proven effective, evidenced by her hundreds of graduating students over her many years of classroom instruction.
Additionally, Charlene has been an ongoing speaker at the National Council for Geocosmic Research (NCGR) on such subjects as "The Mark of the Genius", "Gambling", "Choosing the Perfect Career", "Winter Solstice", "Declinations", and "Tarot & Astrology".
Contact Info: