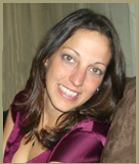 Dominique has been an Astrologer since 2007 and is always expanding her knowledge and bringing fresh insight to her readings and work. She believes an Astrological reading can open you up to a whole new understanding of yourself and initiating more compassion and self-acceptance. It can help you to communicate more effectively, navigate crisis with more grace and make better decisions to build a foundation on which you can live at your highest potential. What we think, feel and believe on the inside is what we manifest on the outside, so living with Astrology as a guiding support can help our personal evolution process and bring more love, joy and abundance to our daily lives.
She specializes in readings for the beginner or person looking to learn more and go beyond just being read. Along with her nurturing, teaching style she is a mother who also adds more depth to conscious parenting with her Baby and Mommy & Me readings. Being a parent can be a scary journey and there is no manual for 'doing it right', but the Astrological map is a priceless tool for providing insight that can help immensely to parent with more confidence.
Knowledge is power and knowledge of Self creates freedom; Freedom to be You! You will leave a reading with Dominique feeling confident, empowered and armed with a personal binder of insight to begin building or continue evolving your own self-discovery journey.
Contact Info:
Phone :

Email :

Website :